Tutorials
Configuring and managing your server
How to Create a Subdomain or Domain Name

Creating a subdomain in Minecraft can be useful when you want to organize your server and make it more user-friendly for your players. A subdomain allows you to create a unique URL that directs to a specific section of your Minecraft server. In this article, we'll go through the steps on how to create a subdomain in Minecraft.
By Default, an IP and Port is affected to your server, you can configure a subdomain from the domain list that we provide for free.
You can also order your own domain name with the domain option. You can select it on first order, or add it from the renew page on your panel.
Changing your Subdomain address
1. Login to your panel, and navigate to the "Settings" page



2. Choose a name for your server, and a subdomain from the available domain list. The subdomain name should be unique and easy to remember.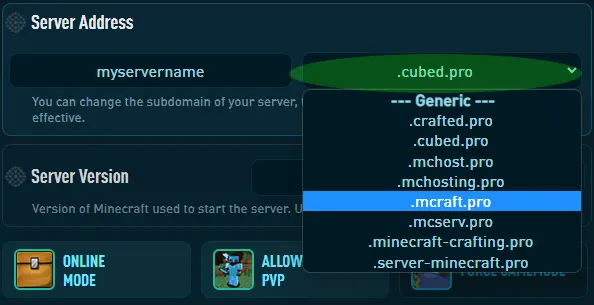 3. Click on "SAVE CHANGES".



4. The new subdomain can takes until 48 hours to be replicated to all networks and isp name's servers.
Configuring your Own Domain Name
If you already own a Domain name, here is a step-by-step guide on how to configure a domain name on your Minecraft server using an SRV DNS entry:
Purchase a domain name: The first step is to purchase a domain name from a domain registrar such as Namecheap or GoDaddy. Once you have purchased a domain name, you will need to log in to your account and navigate to the DNS settings.

Create an SRV DNS record: In the DNS settings, create a new SRV DNS record. The SRV record should have the following settings:
Service: _minecraft

Protocol: _tcp

Name: The subdomain name you want to use (e.g. play.example.com)

Priority: 0

Weight: 5

Port: The port your Minecraft server is running on (check on your panel)

Target: The domain name or IP address of your Minecraft server (check on your panel)

Test the connection: Once you have saved your DNS settings, start your Minecraft server and test the connection by connecting to the subdomain name you created (e.g. play.example.com). If everything was configured correctly, you should be able to connect to your Minecraft server using the domain name.
By following these steps, you can configure a domain name on your Minecraft server using an SRV DNS entry. This can provide players with an easier way to connect to your server and can also allow you to change the IP address of your server without players needing to update their server address.
If you want your own Domain name,

but don't want or don't know how to configure it
We can order and configure the domain for you, simply select the Domain option on offer or renew page of your panel, then open a support ticket to ask for the domain you want.