Tutorials
Configuring and managing your server
What is Minecraft Eaglercraft ?

Minecraft is a game that has captured the hearts of many players worldwide. Unfortunately, some people may not be able to purchase the game or prefer to play it for free. To cater to this demand, several third-party services have emerged, offering free access to Minecraft. However, most of these services are considered illegal and are riddled with malware, viruses, and ads. Eaglercraft is one such third-party service that claims to offer free access to Minecraft.
In this article, we'll take a closer look at Eaglercraft and evaluate whether it's a good option for playing Minecraft.
What is Eaglercraft?
Eaglercraft is a third-party service that offers free access to Minecraft. The service is similar to other websites that offer Minecraft for free. Currently, only Minecraft versions 1.5.2 and 1.8.8 are playable on Eaglercraft, meaning you won't have access to new features introduced in later versions of the game. When you load Eaglercraft, you'll be greeted with a profile customization menu where you can choose your username, cape, and skin. You can also upload custom files to use on your character.
When you enter the world, you'll notice that everything looks different from the official version of Minecraft. You'll also see useful information such as frames per second (FPS) and tick rate on the top left-right corners of the screen. The controls for playing the game are the same as the official version, but you may experience problems due to the browser-based nature of Eaglercraft.
If you're using the 1.8.8 version of Eaglercraft, then multiplayer is your only option. The other version offers both single-player and server compatibility but significantly lacks features. The servers are predetermined for everyone, and the chat/rules may not be monitored, so you need to be cautious.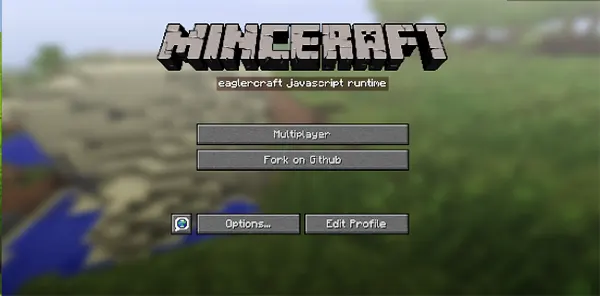 Risks and Problems
Using Eaglercraft can be risky. Although the service may have some features that attract users, there are many potential issues to consider. Eaglercraft is not affiliated with Mojang, the developer of Minecraft, and may use your personal data for profit or other reasons. Advertisements are everywhere, making the experience less enjoyable. The servers are not safe, and the controls are not smooth for sustainable gameplay. Since older versions of the game are used in the project, many features are lacking compared to the official version of Minecraft. Furthermore, profile names and skins can be inappropriate, and players are susceptible to viruses and malware.


Buy Minecraft Instead
Although some users may prefer playing Minecraft for free, it's better to buy the game instead. Cracked Minecraft, including Eaglercraft, poses many risks and security concerns. Official accounts provide more security and access to all the latest features. You'll be able to experience the game fully and join any server, knowing it's secured. You can purchase Minecraft from the game's official website.


Conclusion
Eaglercraft may be a popular option for playing Minecraft for free, but it's not a good one. There are many security risks and issues associated with third-party services. It's best to purchase the official version of Minecraft, which provides access to all the latest features and more security. We hope this article has given you a better understanding of Eaglercraft and helped you make an informed decision.